2023 Family Advocacy Day
This year's 18th annual Family Advocacy Day—CHA's flagship advocacy event of the year—was the first to be held in person on Capitol Hill since the start of the COVID-19 pandemic. More than 40 children and their families flew to the nation's capital for three days, meeting with nearly 200 state and federal lawmakers to share their stories and the unique role children's hospitals have played in their health care journey.
During the event, patient families represented their children's hospitals to urge lawmakers to advance public policy priorities that address:
Timely access to doctors and other professionals trained to meet the unique health care needs of children.
The vital role Medicaid and the Children's Health Insurance Program (CHIP) play in families' lives, providing health insurance to nearly half of all children.
The mental and behavioral health emergency that children and teens are facing.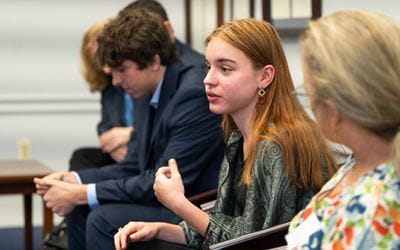 2023 Family Advocacy Day
This year's theme was "Fearless for Kids' Health." Despite the many challenges they may face, our Family Advocacy Day champions remain fearless today for a better tomorrow in the fight for children's health. By coming together to share their stories, these champions speak and act locally, while having an impact nationally.
The event kicked off on June 20, with optional tours of Washington D.C and other national attractions. On June 21, families began their legislative visits on Capitol Hill, participated in interactive advocacy trainings and gave media interviews to share their stories with national and local press. The day concluded with dinner and a celebration party featuring Latin Grammy-winning performers, beloved superheroes and other fun activities.
On June 22, in addition to congressional visits, attendees headed to Capitol Hill for a special luncheon where families heard from members of congress celebrating recent legislative victories like the Ace Kids Act and emphasizing the impact of participation in Family Advocacy Day.
"You all are my heroes," said Representative Kathy Castor, chair of the bipartisan Children's Health Care Caucus. "Thank you so much for all that you do and taking time to come to Capitol Hill to talk to members. We're here to support you along the way, and I couldn't be prouder of your work."
Experience highlights from the event on our social media: Twitter, Facebook and Instagram.
Learn more about Family Advocacy Day and meet some of children who attended.