When Kelly Mahaney, M.D., began training to be a neurosurgeon, she was the only woman in her department. She also remembers that, as a medical student, she met a neurosurgeon who told her, "We need more women in neurosurgery."
"That was absolutely true then and is still true now," she says. Though roughly half of graduating medical students in the United States are female, according to the Association of American Medical Colleges (AAMC), only 9.3% of neurosurgeons are women.
Mahaney is now the interim chief of pediatric neurosurgery at Stanford Medicine Children's Health. She is also a part of something rare: an all-female pediatric neurosurgery team.
Laura Prolo, M.D., Ph.D., pediatric neurosurgeon at Stanford Medicine Children's Health, credits this milestone to the former division chief.
"We have such a fantastic team," she says. "It's been years in the making, and it didn't just happen by accident. It was thoughtful effort to get to where we are."
Supporting women
Diversity is central to the culture at Stanford Medicine Children's Health. Prolo has seen the supportive environment fostered through her 17 years at Stanford. Her mentors recruited and supported women and underrepresented minorities—they looked out for opportunities for her to lead, championed her dreams, and helped her thrive.
While most of her peers were men, she says at Stanford, she never felt like she was treated differently than anyone else.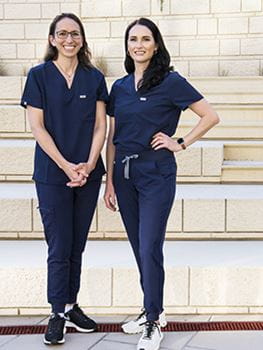 From left to right: Laura Prolo, M.D., and Kelly
Mahaney, M.D., are pediatric neurosurgeons
at Stanford Medicine Children's Health.
That was evident when Prolo was deciding whether to pursue neurosurgery.
"Having a family was important to me, and I brought up this concern to one of my mentors," she says. "His response was, 'Of course, you can do both. You're smart and you're talented.' Just that he had that faith in me was inspirational. It allowed me to think that I could do everything."
There is still room to improve disparities that exist. Mahaney recognizes the continuous effort toward work-life balance as more of a "see-saw than a perfect balance," but having the support of a very diverse neurosurgery department and other female neurosurgeons who excel in their roles has been transformative for her.
"We try to promote a community that is supportive of women as neurosurgeons and as mothers," she says. "An amazing example of this is a neurosurgeon colleague of mine who encouraged me to breastfeed my daughter when she was born. She taught me that we don't have to choose whether to be great mothers or great neurosurgeons. She inspired me to find a way to make it work. I want to give the same support for my current and future colleagues who are finding their way in balancing motherhood and neurosurgery."
Fostering the next generation
Becoming a neurosurgeon is not an easy path. Mahaney and Prolo say that despite the long, demanding training, it's an extraordinary and fulfilling career if it is your calling.
"We have the privilege of caring for young patients at what is often the most vulnerable time of their lives," Mahaney says. "The impact we have on children is even greater, as their whole lives are ahead of them. This has been the biggest motivation for me: to give children with neurosurgical conditions a chance for a brighter future."
So, for other women who find themselves called to care for the sickest patients, just know that there are others who have paved the way.
"It is possible to be a great neurosurgeon and be a great friend, daughter, sister, mother, partner," Mahaney adds. "It is up to us to shape the future of neurosurgery—and I hope many more women will choose this path and shape it with us."