Hematologic disorders may include problems with red blood cells, white blood cells and platelets. Each of these components of blood have specific roles that help maintain homeostasis. Disorders will result in that component being unable to maintain homeostasis of the hematologic system. Manifestations of disorders of any of these will reflect the role of that component of the blood.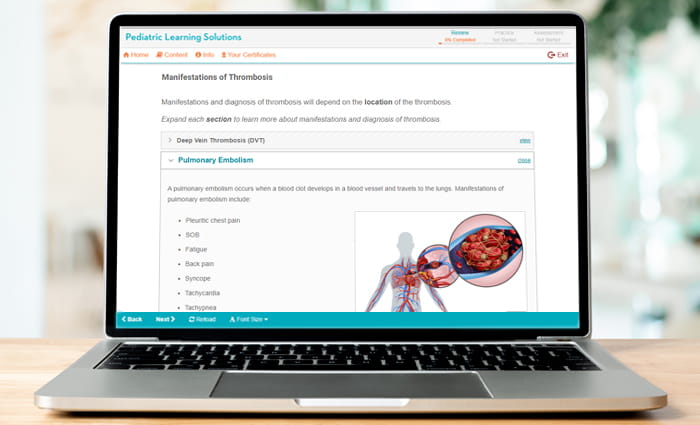 Key Features
Explores manifestations and treatments of common types of anemias, neutropenia and thrombosis.
Review of the hematologic system.
Interactive and visual presentation keeps learner engaged.
Objectives
Identify common hematologic disorders of red and white blood cells and clotting disorders in the pediatric population.
Outline the causes, manifestations and treatments of disorders of red blood cells and neutrophils.
Discuss the presenting manifestations, physical findings and treatments associated with DVT, PE and CVA.
Note:  This course is only available to staff at PLS Participating Hospitals through their Learning Management Systems. If you are interested, please check with your organization's learning staff or contact  Patty Kohn to learn more.