It's almost like a storyline from the pages of a comic book: mild-mannered children enter a hospital's operating room and emerge as superheroes!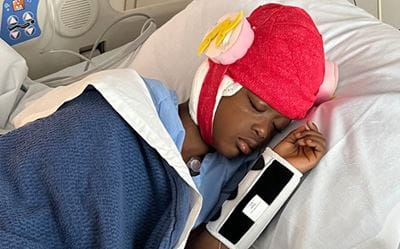 Greives creates superhero head dressings like the Flash and
more with whatever materials his team can find.
Although a fantastic tale, it does represent the feelings created by the specialized head dressings that Matthew Greives crafts for the craniofacial surgery patients he treats.
"Kids are typically scared of the hospital, so we try to make something fun and interesting to distract them from the fact that they just went through something no child would ever want to undergo," says Greives, M.D., Thomas D. Cronin Chair of Plastic Surgery, Children's Memorial Hermann Hospital in Houston, Texas. "And hopefully it keeps them happier while they're recovering."
Always searching for new materials
Greives began customizing patient head dressings by turning up the tops of standard white gauze bandages to resemble animal ears—a trick he learned from his fellowship director at UPMC Childrens Hospital of Pittsburgh in Pennsylvania. Soon, he and his team were adding stickers and coloring the dressings with markers to match a specific theme or holiday. One day, a nurse found some yellow coban (cohesive bandage) and suggested they could use it to create a head dressing resembling a Minion from the "Despicable Me" movies—and the rest is history.
"If there's any idea we can come up with, usually my O.R. team and I will try to 'MacGyver' together anything cool and interesting we can find around the hospital to create it," Greives says. "It's definitely a team sport—I love that my team is so excited about it."
Enhancing patient and family experience with minimal overhead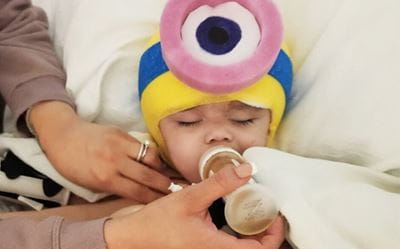 Minion dressing made with yellow cohesive bandage.
Because Greives brings the head dressings to life using standard materials found around the children's hospital and they take only a few minutes to craft, it's a win-win proposition toward improving the overall patient experience. "It's really just a low budget way to make someone's day," Greives says.
In all, Greives estimates he and his team have customized head dressings for about 200 patients since he arrived at Children's Memorial Hermann Hospital in 2014. He solicits requests for special dressings during the patient's pre-surgical visit. In some cases, Greives will surprise them with whatever inspires him; in addition to the Minions, some of his favorites include Hello Kitty, Spiderman and Captain America—personalized with the initial of the patient's first name.
And while the surgical team enjoys the hospital-wide scavenger hunt to source the materials necessary to create the newest design, there's no doubt who enjoys the colorful creations most.
"It's always a great sign to me if the patient doesn't want to take off their dressing even after two days—they just want to keep them on," Greives says.