Nicklaus Children's Health System in Miami has always been a staple in the community, but they desired to become more deeply and more formally involved not just as a system but as individuals. "We wanted a real connection, so we began asking how we could better align with other organizations, empower our staff members to get involved and connect, and support families outside of the four walls of our hospital," said Matthew A. Love, president and CEO of the health system. "To achieve our mission, it is essential that we be part of the fabric of the communities we serve."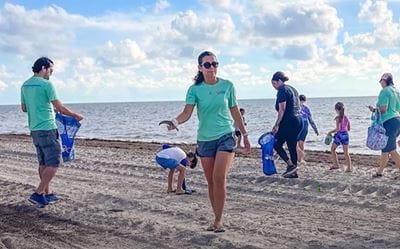 Beach cleanup is one of the many opportunities for staff to serve
the community during Connect events.
With this in mind, the health system launched ONE Nicklaus Children's—an initiative to embed community involvement, philanthropy, and advocacy for children into the culture of corporate social responsibility (CSR). The program is based on a traditional CSR program, adapted for their nonprofit system a little over a year ago. So far, it has been a resounding success, with more than 3,500 hours of participation in community connect events. "That's pretty incredible during a time when hospitals have been so busy," says Julie Katz, executive director of community health and corporate responsibility. "The program has been well received and proven positive in terms of employee morale and corporate culture."
The program has also helped the hospital foster relationships and opened doors for larger community health or clinical care efforts. "ONE Nicklaus Children's has deepened our relationship with many community organizations in meaningful ways," Katz says. "It has been helpful toward our goals of addressing social determinants of health by being able to provide more screenings, resources and providing clinical services to children that otherwise might not have had a contact with us."
ONE Nicklaus Children's has three pillars: Connect, Give and Represent.
Connect. Community Connect Events form the most active pillar of the program. These are group opportunities to directly engage with and support local community organizations. Every full-time employee in the organization gets eight hours of paid community time off (CTO) to spend in four-hour increments volunteering at community organizations, and part-time employees get four hours of CTO. This takes a variety of forms, such as beach cleanups, food distribution, homework assistance, county ID card registration assistance, and hurricane relief.
Give. While a traditional CSR can encourage donations to community organizations and even match gifts, this looks different in a nonprofit health system. Nicklaus Children's believes that philanthropy begins at home, and its second pillar is Give Back to the Nicklaus Children's Hospital Foundation. Building on the success of the existing employee giving program, they created a recognition tier for employees who make donations of $10 per pay period for individual contributors and $20 per pay period for leaders and physicians.
Represent. The third pillar is Representing Nicklaus Children's in the Community. The two major ways they accomplish this are through leadership expertise and community presence. First, they encourage leaders and physicians to take their expertise out into the city and beyond. "We want them presenting at conferences, publishing papers, sitting on boards of local organizations—all these different ways we want them representing Nicklaus Children's out in the community," Katz says.
The next question was, how to open this up to everybody? To do that, they encourage employees to be active in events throughout the city, such as staffing a table at a 5K race or community resource fair and handing out informational or promotional materials. By providing these opportunities for employees to sign up to attend through an online platform, it allows the organization to get more coverage at these events and engage employees at all levels in representing the organization.
The greatest challenge has been communicating the program to employees, which can get lost among messages from all across the organization. One way they've addressed this is by incorporating ONE Nicklaus Children's into the onboarding process, a testament to how it has quickly become part of the organizational culture.
In all, the program more deeply connects the health system to the community, provides more opportunities to serve patients, and helps connect staff to the organization's vision of "creating a healthy future for every child." During Connect events, staff wear bright t-shirts branded with the hospital's logo, and people from the community will approach them with stories of gratitude about how the hospital has changed their lives.
"Nicklaus Children's is committed to being the hospital 'where your child matters most,'" says Jennifer McCafferty-Fernandez, Ph.D., chief of staff to the CEO and senior vice president of external affairs and experience. "ONE Nicklaus Children's is a great example of us living this commitment to kids and families in a way that is especially important in a post-COVID world, where we are all working to regain connectivity and healthcare teams are feeling the burnout. The happy result is that our staff love the program and the opportunities for community connection that it promotes. That's been truly rewarding to see."