A 12-year-old boy had been walking with an unexplained limp for months, but his mother couldn't get him to a provider, the closest of which was 20 miles away. One day, she came across a big bright truck in her son's school parking lot with the name Texas Children's Hospital spanning the length of it. She ventured over tentatively and asked if she could bring her son by. Later that evening, he was in the OR receiving emergency surgery for slipped capital femoral epiphysis, a condition that leads to serious, life-long complications if treatment is delayed.
"By coming to patients where they are, mobile health clinics flip the patient-provider dynamic on its head," says Elizabeth Wallace, executive director of the Mobile Healthcare Association. "That makes them uniquely situated to improve quality and outcomes."
Texas Children's first mobile unit was donated by the Junior League of Houston.
Underserved and vulnerable populations—those who lack adequate access to medical care for different reasons, such as race, geographic location, income, insurance, or language—are at a much higher risk of being hospitalized for avoidable health problems and have higher rates of morbidity and mortality. Some estimates say more than 20 million children in the United States lack sufficient access to essential health care, even those who live in urban areas with no shortage of providers.

"Even if you have the most amazing children's hospital in the world, some people can't access that care," says Sanghamitra M. Misra, M.D., MEd, FAAP, medical director of the mobile clinic program at Texas Children's in Houston. "They may be scared because they don't have health insurance or confused about how to navigate the system. Or they don't even know how to begin trying to figure out the logistics of getting there."
Besides mobile clinics' obvious solution to transportation barriers, research from the International Journal for Equity in Health cites the informal setting, familiar environment, convenient location and staff who "are easy to talk to" as some reasons vulnerable populations value mobile health care.
Access isn't the only barrier to care. Patients and families may avoid medical visits due to poor health care experiences or a perceived lack of compassion. More than half of low-income patients believe doctors can't be trusted, according to a report from Mobile Health Map, a virtual tool from Harvard Medical School. "Trust in the health care system with underserved communities was already low prior to the pandemic," Wallace says. "Mobile health clinics are designed to become immersed in communities by fostering relationships, not only with patients but with community organizations, and literally meeting people where they are and not dictating health care to them."
Meeting unmet needs
Mobile health clinics have been providing care for decades, but the pandemic put them in the spotlight when there was a rush to test and immunize the nation against COVID-19. Their adaptability and mobility were an ideal solution, and since then states, community organizations, and hospitals have been increasing investments in them. Mobile Health Map estimates there are more than 2,000 mobile clinics now in the United States—all capable of serving a variety of needs. Those needs vary from community to community and shape the services children's clinics offer and the populations they serve—whether it be a dental clinic or asthma center, a vision clinic or primary care unit. Some children's hospitals and health systems offer broad services across a large geography while others focus on a highly specific service in a specific area.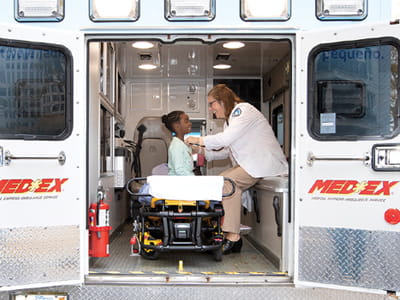 Lurie Children's provides services in a converted ambulance to Chicago Public Schools.
In Chicago, where youth asthma rates are among the highest in the country, Ann & Robert H. Lurie Children's Hospital of Chicago offers pulmonary services out of a converted ambulance, visiting areas where patients have high readmission rates in the ED for asthma. "At our first asthma clinic, we had a mother that cried, just busted into tears. She has multiple children, and it was hard for her to get her child to downtown Chicago by public transportation," says Jacinta Staples, M.S.N, RN, director of Community Clinic Collaborations at the Patrick M. Magoon Institute for Healthy Communities at Lurie Children's. "For our mobile clinic to be five minutes from where she lives, she was so excited that her child could finally be seen." They also provide immunizations, sports physicals, and well-child services at schools, which students need to remain in school but often have difficulty keeping up with.
Le Bonheur Children's Hospital in Memphis serves rural patients whose main challenge is overcoming distance to pediatricians. "Some of our kids live so far away from quality care. And areas in West Tennessee have health care provider shortages," says Cindy Hogg, director of Health Services for Community Outreach at Le Bonheur Children's. "Kids go years without seeing a pediatrician, and we often uncover symptoms that have led to a chronic disease that the child and parent aren't even aware of."

After learning that a lot of children were missing their annual well-child visits due to transportation issues, Le Bonheur Children's began partnerships with school systems in eight rural counties where they could make sure to see the majority of the rural child population with their mobile clinic, focusing on the uninsured and underinsured. They also discovered a lack of nutrition literacy and developed a health education program that involves scheduled sessions at the school that take place over the course of two to three months.
In Houston, there are large populations of immigrants who avoid health clinics and hospitals out of fear, confusion, or lack of transportation. "A lot of our patients will probably never see a physician again despite our efforts to get them into a medical home," Misra says. "That's why we decided we needed to be comprehensive." Their main mobile unit has all the capabilities of a pediatrician's office, and even a pharmacy. Misra will fill prescriptions during the visit so the patient leaves with the medication rather than having to travel to a pharmacy. They also have a behavioral health unit focused on trauma and grief to help meet the increased need for pediatric behavioral health care.
Although mobile health clinics meet people where they are to provide the care they need, their ultimate goal is to connect patients to a permanent medical home. Le Bonheur Children's and Texas Children's mobile health programs have at least one community health or social worker who helps families without insurance enroll in Medicaid, CHIP or other insurance. They assist with the required paperwork, and they go the extra step of connecting them to a medical home—and verifying that they go. "We're trying to reduce as many barriers as we can," says Misra. "They are barely making it to see us."
Meeting social needs
While the pandemic shed light on existing gaps in health care access, it also raised awareness of long-standing disparities based on social determinants of health (SDOH). Strategies to overcome these disparities require interventions tailored to individual social contexts, which puts mobile clinics in a position to address those needs. "By integrating into communities, mobile health clinics are uniquely situated to improve equity," Wallace says. "Most mobile clinics are looking at a whole person approach, whether it's facilitating access to healthy foods or safe housing, or providing medical-legal partnerships or behavioral health services."
This is especially true for mobile clinics run by children's hospitals and health systems, which are widely connected to community resources and aim to improve outcomes well beyond the hospital walls. "One of the great things about having grant and philanthropic funding is being able to do some of those unusual things to help and intervene and get kids the care they need beyond health care," Hogg says.
Le Bonheur Children's mobile clinic serves rural patients in Tennessee.
By connecting patients to community resources like speech therapy, food banks and housing assistance, Le Bonheur Children's mobile clinic has helped kids learn how to communicate, improve school performance, and overcome behavioral health challenges. Lurie Children's mobile clinic has been used to provide sexual health education, HIV and STI screenings, and naloxone trainings and distribution across Chicago.
Because mobile clinics build relationships and trust with their communities, they're also able to discover and meet particular—and sometimes unexpected—social needs. For example, many children living in poverty don't have access to new underwear, which affects hygiene, self-esteem and ultimately school performance. Texas Children's mobile clinic partners with the Houston nonprofit Undies For Everyone and now provides a pack of new underwear to every patient they see. These small gestures, born out of individual community needs, occur all the time—a gas card, a pillowcase, a set of books—and together they increase patients' well-being and improve their chances at long-term success.
The business case
Though the benefits to communities are clear, the capital to start a mobile clinic and the cash flow to maintain it can be significant. But hospitals are using creative funding methods to ensure their efforts are sustainable. In most cases, direct patient revenue alone won't sustain the ongoing operational costs of a mobile health clinic.
Most are financially supported by a combination of sources, including philanthropic partners, parent health systems, and federal and state grants. Lurie Children's, for example, received a federal government appropriation for an RV-sized mobile unit they'll launch in 2023. One of Texas Children's units was donated by Ronald McDonald House Charities and another by the Junior League of Houston. In addition to donations and grants, some children's hospitals rely on billing insurance to sustain their program while others do not bill at all.
Although mobile health clinics may not be profit centers, the Mobile Healthcare Association and the Mobile Health Map at Harvard Medical School published a report last year ("The Case for Mobile") outlining the business case of mobile health clinics. A mobile clinic, for example, has lower startup costs than a fixed-site clinic—and it can venture to areas where demand is high. By visiting a variety of places, it recruits new business. And as it travels throughout a city, the vehicle's wrap raises both awareness and credibility. Other benefits cited were increased staff retention, financial incentives for value-based care, and tax exemptions.
Although there are sound strategic reasons for supporting a mobile health clinic, those inevitably come second to the true incentive: "There are so many rewards to working on a mobile clinic," says Wallace. "You know the work you're doing is important and valued and that you are making a difference."
For Misra, the most rewarding thing is the smiles on the parents' faces and how thankful they are. "Even though you can't change the entire world with your mobile clinic, you can change the lives of some people every day."
Frequently asked questions about mobile health clinics
Who can mobile clinics serve?
The population served depends on the goals and resources of each children's hospital. Some non-clinical indicators to look for, according to a report from Mobile Health Map, are areas with transportation barriers, shortages of providers, and high utilization of community resources. Clinical indicators could include high readmissions, low outpatient visits, and high ED utilization and costs. Talking with community organizations, schools, managed care organizations, and insurance companies can also provide insight into populations or conditions that could benefit from a mobile clinic.
How do hospitals staff mobile clinics?
A common approach is to have a dedicated nurse, nurse practitioner and driver, with the rest of the staff rotating. At Lurie Children's, one of 10 rotating urgent care physicians will serve once a week. Le Bonheur Children's has LPNs alternate between the mobile unit and the office in addition to a dedicated NP. Texas Children's clinic is staffed by Baylor College of Medicine faculty who spend their clinical time on the mobile clinics. They also have three licensed social workers for the trauma and grief unit. All the hospitals have community health workers who split time between the clinic and hospital.
Do mobile health clinics take walk-ins or appointments?
Walk-ins allow people to receive care who may not have been aware of the clinic ahead of time—but this can result in people being turned away due to time constraints or only a handful of patients showing up for the whole day. Appointments ensure everyone gets seen, the required documentation happens before the visit, and enough patients show up to make the trip effective.
How is care at mobile clinics billed?
Although mobile clinics are financially supported by a combination of sources, for some children's hospitals, billing insurance is necessary to remain sustainable. (Most mobile clinics run by children's hospitals do not require any payment from the patients themselves). Billing can be a burden for mobile clinics, and in Texas Children's experience, fewer patients come when they are billed because of the documentation requirements.