Meet Moby. He's a full-time facility dog dedicated to health care workers at the Mount Sinai Hospital System. Moby's presence, along with his partner Jaclyn Craig, a licensed creative arts therapist and facility dog handler, provides Animal Assisted Therapy (AAT) to address the broad range of challenges and vulnerabilities clinical teams face working in the hospital setting. Moby's presence addresses stress in real time, facilitating moments of pause, decompression and connection.
"Moby brings a smile to everyone's face when he comes into the Emergency Department," says Angela Chen, M.D. "Our jobs can be fast paced and stressful, and a visit from Moby reminds me to take a deep breath during my shift and find joy in the small things."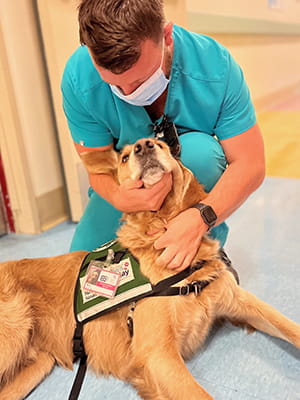 Facility dog Moby is trained to bond with hospital staff.
The Child Life and Creative Arts Therapy Department at Mount Sinai Kravis Children's Hospital helps young patients cope with the fears and anxieties often associated with illness, injury and hospitalization. In March 2017, the department diversified its clinical offerings with the launch of Paws & Play, a facility dog program designed to integrate AAT into the department's existing services, focusing on supporting the well-being and resilience of healthcare workers.
Supporting essential workers during the COVID-19 pandemic has been a significant aspect of Moby and Jaclyn's work. "I was professionally and personally humbled to see the effect Moby and Jackie had on staff during the pandemic. When Jackie and Moby entered a space, you could hear the collective exhale—shoulders relaxed, voices became upbeat, and in some instances, tears were shed. This duo gave us permission to be human with no pretense or expectation," says Morgan Stojanowski, assistant director of the Child Life and Creative Arts Department.
Moby's background and training
Many of Moby's special attributes are a result of the bond-based training he received at Georgia-based Canine Assistants during the first two years of his life. This training serves as the foundation for Moby's work, informing the day-to-day care Jackie and Moby provide to staff in high stress situations. His intuition and relationship with his clinical handler allow him to integrate the energy and emotion in the room and respond accordingly. "Staff on diverse levels, from leadership to frontline workers, all have expressed deep and powerful feelings of support and community when they experience encounters in the workplace with Moby and Jackie," says Diane Rode, senior director of Patient and Family Centered Care.
In addition to clinical work, Jaclyn is engaged in research and is finalizing a manuscript on assessing facility dog interventions for clinical care team members' well-being. As the Paws & Play team anticipated, the data shows statistical significance between Moby and Jaclyn's presence on the clinical unit and staff's increased feelings of calmness, happiness and vigor and decreased feelings of depression, fatigue and tension. The physical symptoms of stress, including elevated heart rate, headache and stomach upset, also decreased for participants. Of note, 85% of participants felt that Moby had a positive impact on their workday.
Addressing the well-being and resilience of essential workers has become a national priority. The organization has learned through staff feedback, and research that AAT programming, combined with the skills of a clinical handler, is effective, meaningful and therapeutic. Moby and Jaclyn bring positivity and comfort throughout the Mount Sinai Health System and continue to focus their interventions on those who serve patients and families.