Drowning is the leading cause of death from injury in children 1 to 4 years of age in the United States and the third leading cause of injury death in children 5 to 19 years of age in the United States. It is also a major cause of disability as many survivors will have moderate to severe neurologic complications.
Management of the pediatric drowning patient should be focused on preventing further anoxic damage and identifying and treating complications. There are three phases of interventions for the drowning patient:
Prehospital
Emergency department
Inpatient care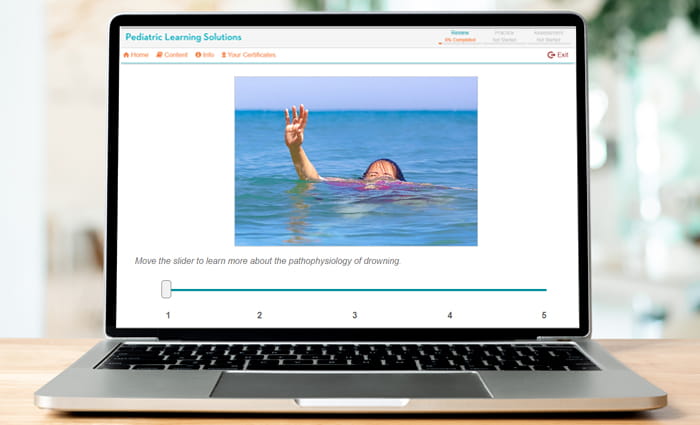 Features
Identifies aspects of hospital care management and interventions including: hypoxia, cerebral function, hypothermia, cardiovascular, fluid and electrolyte balance, and trauma evaluation.
Engaging patient scenario woven throughout the course and practice questions.
Explores the pathophysiology of drowning.
New version released on March 1, 2021.
Learner outcome statement
Upon course completion, participants should be able to: Provide care to the pediatric drowning victim, from the ED to the PICU, following current evidence-based care and management standards.
Objectives
Define drowning and submersion injury.
Describe interventions specific to the type of drowning—cold water, warm water, clean water, contaminated water.
Discuss current management strategies of the drowning victim in the emergency department and PICU.
Identify indications of deterioration.
Describe predictors of mortality and outcomes after drowning.
Outline strategies to prevent drowning in the pediatric population.
Note: This course is only available to staff at PLS Participating Hospitals through their Learning Management Systems.